Daily assistance with household tasks, weekly companionship or help with personal care, we can tailor our services to your needs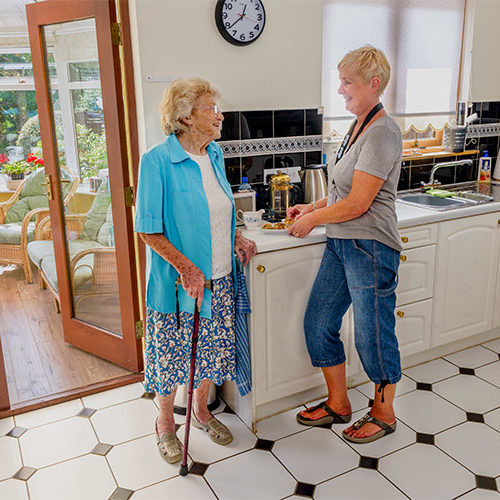 At times in our lives we can all face challenges which can lead to the need for longer term care and ongoing support. Having someone who understands and offers the time and care needed makes all the difference. Our long-term care provides the continuity and peace of mind in situations where more regular and sustained support is needed.
Our Long Term Care Services
Give You Care When You Need It
Time is important to us all which is why our support is provided for a minimum of two hours each visit. This allows time to delivery the quality of care and companionship needed and to build relationships.
We offer a range of support including companionship and social support, help with housework and household administration, meal preparation, personal care, assistance with medication and help with shopping.
Communication is key in any long-term support arrangement. We receive regular feedback from our staff and review the support with you on an ongoing regular basis – just to check everything is as it should be. You can also contact us at any time.
We tailor your support package round your needs and help to maintain independence. Support can be provided on a daily basis, once per week, regularly overnight or anything in between. Our service is completely flexible and adaptable around changing needs and circumstances.
We get to know about you, your background and interests and what type of carer you are ideally looking for. This helps us to ensure we match you with the right member of staff to provide you with continuity of support during your journey with us.
Our highly rated support is a cost-effective solution for longer term care and support needs.
Our care services have been recognised for quality
As a Care Inspectorate Registered company, we are regulated and inspected to ensure that the quality of care and support we provide is safe, of high quality and meets your needs, rights and choices. We have received consistently high ratings from our annual inspections and regularly receive excellent feedback from our Clients and family members on the support provided.

"Flexible Respite were absolutely wonderful when I was hospitalised and there was no one to care for my sister. The carers took charge of the situation and cared for both me and my sister for several weeks."
Client
Melrose
"Flexible Respite are caring, respectful and I would recommend them to anyone with a relative or friend that needs support. Or carers have become part of our family and are much appreciated."
Personal Friend to Clients
Lauder
"I am very satisfied with all my personal care, especially the friendly, personal attention of Alison. Many thanks you are a god send"
Client
Clovenfords
"I can really recommend flexible respite to anyone. The service you receive is second to none. My father looks on the carers as good friends and looks forward to their visits and excursions."
Daughter of Client
Jedburgh
Interested in Long Term Care?